WW2 Imperial Japanese Navy SNLF MARINE PARATROOPER PARACHUTE VERY RARE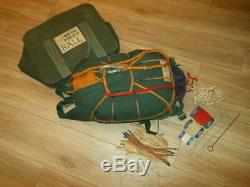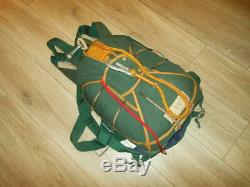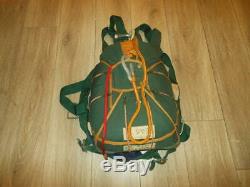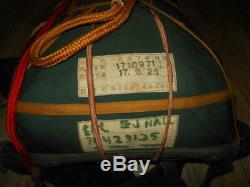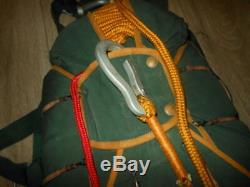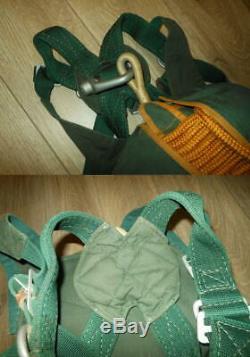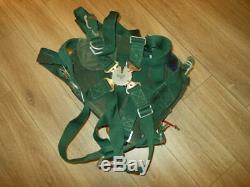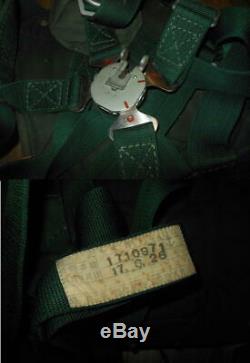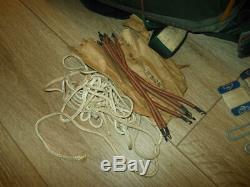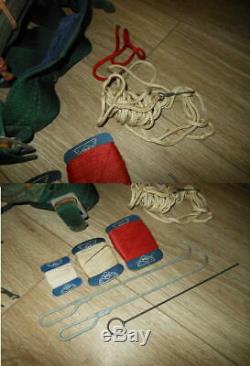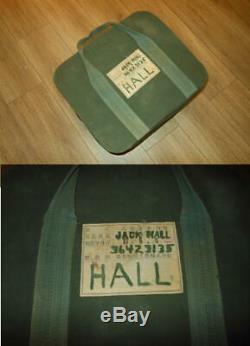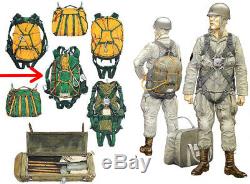 Unlike the more common Pilot Seat and Back Parachutes, this was ONLY used by the Marine Airborne Paratroopers of the Special Naval Landing Forces (SNLF/Rikusentai)! Complete with the original Carrying Bag and Spare Parts, t.
His was brought back by a US Serviceman at the end of the war. Similar to the German RZ20 Fallschirmjäger parachute, this version is designated the. Type 01 of 1941, having a canopy diameter of 28 feet (8.5 metres) in a pronounced hemispherical shape with skirting and a vent hole for stable flight.
A 24 foot (7.3m) reserve chest pack chute was also carried. The particular Japanese method of opening was by static line, however this was extremely dangerous, and liable to failure, as the training program required jumps between 300 and 500 feet (90-150m) - certainly not much time to deploy the main canopy or even the reserve chute. The Imperial Japanese Navy Paratroopers were officially part of the Special Naval Landing Forces (SNLF or Rikusentai).
They came from the 1st, 2nd and 3rd Yokosuka SNLFs. The lightly armed parachute units were intended to assault coastal areas, supporting amphibious landings, or enemy airfields and other strategic objectives. They were not meant to become entangled in heavy, pitched land battles. However, their operational use would prove to be contrary to this doctrine. The Japanese Navy planned to use the paratroop force as a diversion, by co-ordinating the timing of a seaborne assault and parachute drop to create maximum surprise at the point of contact. Rikusentai paratroopers would land inland from beaches where major amphibious assaults were to occur. In particular, it was intended that paratroopers would disable airfields, preventing enemy warplanes from interfering with amphibious landings. The lightly armed paratroopers would have to attack the air base defenses.
If they were successful, it would also allow the Japanese to use the airfield for their own warplanes and was comparable to the use of German Fallschirmjäger at the Battle of Crete, in May 1941. Two companies, numbering 849 paratroopers, from the 1st Yokosuka SNLF, carried out Japan's first ever combat air drop, during the Battle of Menado, in the Netherlands East Indies, on January 11, 1942. Four hours before the airborne landings, the 1st Sasebo SNLF had come ashore by sea nearby.
On February 19, 630 paratroopers from the 3rd Yokosuka SNLF were dropped near Kupang, West Timor, and suffered heavy casualties in the Battle of Timor. They were involved in the. Battle of Borneo (194142) and. 1942, this "backpack type" Navy Parachute & Harness was used EXCLUSIVELY by Airborne Marine Paratroopers!
It is one of the RAREST of all the Japanese Parachutes, being 100% complete (including the Spare Parts, Packing Tools, and Repair Thread), and appears to be in NOS condition! This parachute is an INCREDIBLE piece of Japanese Navy kit for the advanced collection. Overall condition is SUPERB, showing only normal age from storage! There is some slight scratching on the metal fittings.
As well as some marks and wear due to the age, but nothing that detracts. It comes complete with the harness system, back pad, static line, parachute, parachute bag, carry bag, and all spare and repair parts. The parachute is wrapped tightly inside the bag, and is 100% complete, with NO rips or tears. The bag itself is nicely marked as being a Type 1, with a prominent Navy Anchor.
Carry Bag, Parachute, Parachute Harness are original TO each other, featuring matching manufacture labels, serial numbers, and date, proving this is an unmolested set. All buckles and attachments work as they did 70+ years ago, as well as the quick-release system. Some of the bungee cords have stretched over time, but those can be replaced, as the spare parts and packing tools set (also all made by FKK) come with a large assortment of unused original bungies. As all Japanese paratroopers were trained to pack/re=pack their own parachutes, also included are the ORIGINAL replacement para cords/ties; repair thread; closing thread; and packing pull tools/rods.
As it is impossible to find photos online, due to the rarity, I have indicated the parachute in the last image. EASILY one of the most complete and RAREST Japanese Parachutes I have seen (not to be confused with the common Army parachute), it w.
Ould make a PERFECT addition to any collection or display! Most of my items are vintage, and as such are AS-IS, so you must therefore expect a degree of wear due to age and/or usage. Although my passion is the Me109, I do offer many other German Aircraft Fw190, Me262, etc. , as well as USAF and Japanese items.
Occasionally I do offer many non-vintage items such as prints and art relating to the time period. Use is solely based on my authorization only.
The item "WW2 Imperial Japanese Navy SNLF MARINE PARATROOPER PARACHUTE VERY RARE" is in sale since Thursday, December 12, 2019. This item is in the category "Collectibles\Militaria\WW II (1939-45)\Original Period Items\Japan\Other Japanese WWII Orig Items". The seller is "messerschmitt*109" and is located in Agoura Hills, California. This item can be shipped worldwide.

---