SHE WOLF suckling Twins VERY RARE RIC R4 Constantine the Great Roman Empire Coin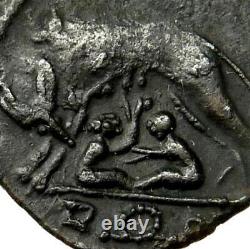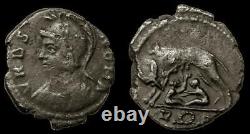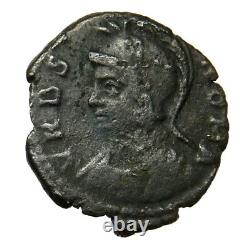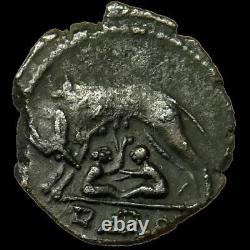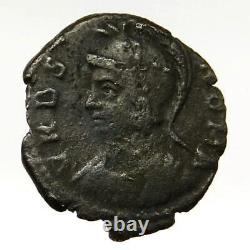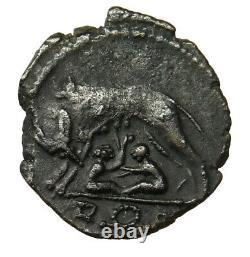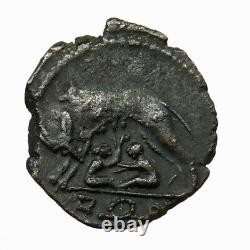 Lick picture and select "Veiw/Open Image" for large hi-res. Ancient Roman Coin of Constantine the Great. C O N S T A N T I N E I. "Urbs Roma" = City Of Rome.
Commemorative coin from reign of Constantine the Great. Struck under the reign Constantine I. Struck 336 AD, Rome Mint. EXTREMELY RARE ROME MINT WITH NO STARS ON REVERSE R4 in RIC. About the size of a U.
The obverse typically contains the name of the issuing ruler--these commemorative coins have VRBS ROMA (City of Rome) thus, in that sense, are "anonymous". Obverse: VRBS ROMA (City of Rome), crested, plumed, helmeted bust of Roma left wearing Imperial mantle/cloak. Reverse: Romulus and Remus suckling from She-wolf; three dots on shoulder of wolf; no Stars above (not listed with combination of dots on shoulder and no stars above); Mint mark of Rome: R Wreath Q. In the Roman foundation myth, it was a she-wolf that nursed and sheltered the twins Romulus and Remus after they were abandoned in the wild by order of King Amulius of Alba Longa.
She cared for the infants at her den, a cave known as the Lupercal, until they were discovered by a shepherd, Faustulus. Romulus would later become the founder and first king of Rome. The image of the she-wolf suckling the twins has been a symbol of Rome since ancient times and is one of the most recognizable icons of ancient mythology.
RIC VII Rome R4 386. VERY RARE Rated R4 in RIC--Likely R5 as reverse is an unlisted variation R5 is a unique-nearly unique coin. RIC (=Roman Imperial Coinage) is the general abbreviation for a set of 13 volumes of identification catalogs of Roman coins. RIC is the world standard scholarly reference. AVF, attractive gray-black patinadarker than images suggest (and more attractive), Much Nicer in hand especially reverse!
OUR GUARANTEE: All illustrations are of the actual item offered. The authenticity of all pieces is fully guaranteed.
Images are not actual size Please see description for actual measurements. This item is in the category "Coins & Paper Money\Coins: Ancient\Roman: Imperial (27 BC-476 AD)". The seller is "zeus_gallery" and is located in this country: US. This item can be shipped worldwide.
Ruler: Constantine I
Denomination: Follis
Composition: Bronze
Year: 336 AD
Date: 336 AD
Era: Ancient
Historical Period: Roman: Imperial (27 BC-476 AD)
Reference: RIC VII Rome 386. VERY RARE Rated R4 in RIC

---