C. 1953 Very Rare Royal Netherlands Air Force Defts Blauw Ceramic Wall Plate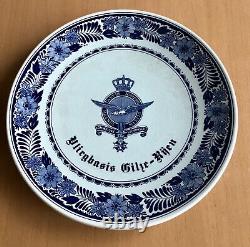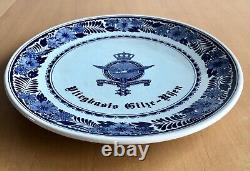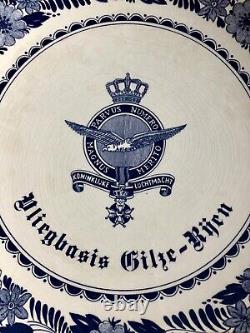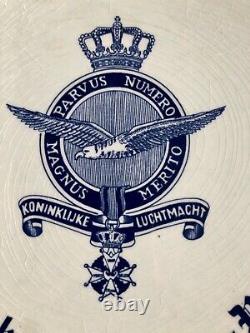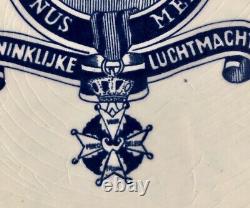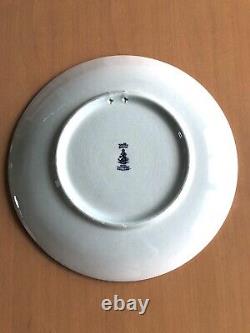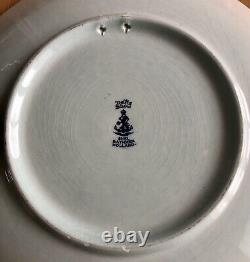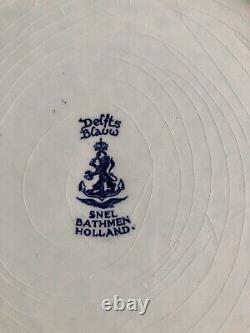 Available for this listing is an exceedingly rare find. 1950s Delfts Blauw large blue and white ceramic and clay militaria plate of the Royal Netherlands AirForce (RNLAF). Which is the military aviation branch of the Netherland Armed Forces created in 1953 and is the ancestor of the Luchtvaartafdeling (aviation department) of the Dutch Army founded in 1913. Below the crown, the words in a circle read "parvus numero magnusmerito" which means Small in numbers, great in deeds. Next is (Koninklijke Luchtmacht) the Royal Airforce insignia is Vliegbasis Gilze-Rijen which is a military airbase in the south of Netherlands and has been used primarily as a base for Royal Netherlands Air Force.
The medallion at the bottom has the word Voor translates to Front, on the left the word Moed translates to Courage, on the right the word Beleid translates to Policy and on the bottom the word Trouw translates to Fidelity. The hallmark onthe back is Delfts Blauw, SNEL BATHEM Holland.
It is in excellent condition with no chips or cracks and has bit of light age crazing. The plate measures 11.5 in diameter.

---